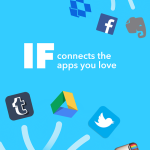 In our fast-paced personal and work lives, we all strive to achieve a balance. As technology evolves, there are more distractions than ever. But technology doesn't have to hinder us by being too overwhelming. So what's out there that can help to keep us on track and streamlined with our lives?
IFTTT – If This Then That. IFTTT is a web based service that allows you to create chains of conditional statements called recipes. Recipes are simple connections between products and apps. There are two types of Recipes: DO Recipes and IF Recipes. IF Recipes run automatically in the background. Create powerful connections with one simple statement — if this then that. DO Recipes run with just a tap and enable you to create your own personalized Button, Camera, and Notepad. The DO apps are available for iOS and Android. These recipes are triggered based on changes to other web based services or 'channels'.
As of November 2015, IFTTT has 230 channels. Here is a link to the list: https://ifttt.com/channels.
If you like an image on Instagram, for example, the IFTTT service can automatically save it to your Dropbox.
There are six categories of services: Shop Smarter, Be More Productive, Connect Your Home, Stay Healthy, Keep In Touch and News Alerts. You can let your ideal apartment come to you via an email when a new listing is posted on Craiglist. Or, sync your files from one cloud storage folder to another or catalog important email from your inbox in an Evernote notebook for later review.
In 2012, IFTTT became part of the Internet of Things (IoT), allowing recipes to interact with your physical world. You can turn your lights on at sunset or wake up to a fresh cup of coffee in the morning via the service.
IFTTT helps you automatically share updates with your closest friends, keep to your fitness routine and stay abreast of the latest trending topics.
The IFTTT site claims that it gives you creative control over the products and apps you love. IFTTT puts the internet to work for you, creating simple connections between the products you use every day.
https://ifttt.com/