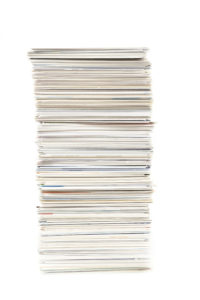 So you have successfully navigated that networking event and walked away with a stack of cards, not heeding the point of the first strategy.  What to do with all of these cards?  Here are some suggestions on how to take that baggy of cards and turn them into something useful.
Smartphone Apps
There are a number of smartphone apps out there that will allow you to take an image of the card.  Some are better than others in how they handle indexing of the information to allow for a quick retrieval.  Others are better at Optical Character Recognition (OCR) and yet others have features that may benefit you in your situation (such as integration with your email or CRM).  As with any app, product or service, you need to do research on how you plan to use the information and choose the one that makes sense for you and your situation.
Having said that, our research indicates these apps have been highly rated in tech circles:
CamCard Free/ CamCard  – Considered one of the best-of-breed apps for Android and also supports iOS.  It offers a free version that comes with restrictions.  If you register your account on the website, you can sync scanned information across multiple devices.
CardToContact – Accuracy testing indicated this app was less accurate than CardToContact, but it does offer features at the free level, such as the ability to place phone calls or send emails from within the app, adding notes to cards and an enhanced filtering system to support easier information retrieval.
FullContact Card Reader – This app requires you to sign in with either FullContact or Salesforce and it is a bit pickier on how the image is captured.   They boast the ability to scan cards into other contact databases including Dropbox, Evernote, MailChimp, Facebook and LinkedIn.
ScanBizCards Lite – This app is even pickier about how it captures your image, requiring the card to be propped up with even a "This Side Up!" indicator.  But if you can live with this anomaly, it has good recognition capability.
ABBYY Business Card Reader – With a history of developing OCR software for years on the Windows side coupled with support for Salesforce integration, this could be a good solution for you.
WorldCard Mobile – If you need multiple language support, this is the app that may be worth exploration.
Physical Devices
There are a number of physical devices out there where you feed your card in and the output is a record of the information on the card.  Most have relatively good OCR capabilities.  These can be exported to a file (typically .xlsx, .vcf or .csv formats) that can be readily uploaded to other contact data bases (Constant Contact, MailChimp, CRM, etc.).  The devices range from single card feed to integration with a flatbed scanner for multiple cards.  The form factor, capabilities and price need to be evaluated to fit your needs and budget.
Manual
Last, but certainly not least, is the manual method.  You can hire someone, say a trusted Virtual Assistant such as a Cybertary, or do it yourself.  If you are doing it yourself, set up the spreadsheet with the fields you want to capture and simply input the information from the cards.  This can become tedious if you are trying to capture hundreds of cards at one sitting, but if you chunk the work into reasonable blocks, it is achievable.  You just have to determine if it is something you want to spend your time doing.  If not, give us a call!
The more automated methods can be faster but OCR is not perfect.  Some of the limitations of which you need to be aware include:
Stylized scripts may not be accurately recognized. For example '&' may be recognized as a '6' or an '8'.  Use of Italicized script can challenge the best of readers, including human readers.
Heavy or glossy card stock may impact the recognition. This is especially true for individual scanners.
Dark background or inadequate contrast of the card colors used can wreak havoc on trying to read the contact information.
So you have some choices of how you want to organize and manage the plethora of business cards you collect from networking events.  What you choose is up to you, your needs and your budget.  Happy Networking!