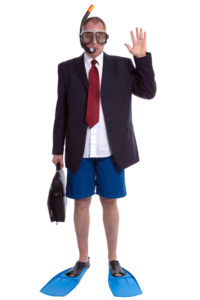 Congratulations!  You have built your business to the point where you have employees.  Now what do you do?  HR specialists will likely recommend that you formalize some of the policies dealing with employee benefits.  These policies are typically documented in an employee manual and establish the guidelines for both the organization and the employee regarding everything from paid time off to appropriate use of technology.   As it is summer, we will focus on Paid Time Off policies and some trends in the marketplace that apply.
What Are Your Priorities?
Vacation time is one form of paid time off (PTO); what you are trying to accomplish with a benefits strategy should come ahead of the actual policy itself.
Typical priorities of a benefits strategy with a PTO component may be:
Creating a rewards structure,
Cost Minimization, and/or
To be competitive.
Traditional vacation policies stem from policies established by labor union contracts.  These are structured to grant employees a certain amount of time off depending upon the length of time they have worked for the company. In addition to vacation time, PTO policies usually also stipulate if employees are paid for national, local or religious holidays.  It is incumbent upon the employer to identify and communicate to which holidays the policy applies.  A third element of PTO may also include other types of leave such as personal days and sick days.
 Vacation Policy
The first thing is to check whether the states in which your employee are located have a  state mandate to offer paid leave.  However, if you elect to offer a formalized vacation policy, even without a mandate, most states stipulate 'if vacation is promised, it must be granted'.  In addition, the formalized policy must stipulate how unused vacation time will be 'paid out', if at all, if the employee is terminated or leaves.
Although vacation time seems like a standard occurrence, employers actually have no legal obligation to offer their employees any vacation time at all. However, the majority of business owners understand the health benefits of offering their employees vacation time, and they aim to set policies that fit their business's operations.
While time off for vacation is not federally enforced, employers are legally obligated to provide certain employees with up to 12 weeks of unpaid, job-protected leave each year under the Family Medical Leave Act (FMLA), a labor law which was passed in 1993.   An organization is not obligated to provide FMLA until is exceeds 50 employees.  Employees that would qualify for this type of leave include persons that are caring for a sick family member, persons who must leave due to a serious health condition that prevents them from working, or persons that have to care for a new child, by birth, adoption or foster care.
Structures of PTO
Vacation
Fixed allocation – An example of a fixed allocation vacation structure would be:
10 vacation days per year for each employee (Decision on how to pro-rate if employee commences employment other than the first of the year).
This allocation can be tiered to add more days after an employee reaches tenure milestones such as 5 years, 10 years, etc.
For new employees, employers need to decide if the vacation time starts immediately or after an employee has been with the firm for a specified time period (e.g., 3 months, 6 months)
Percentage allocation – An example of a percentage allocation would be:
An employee is awarded a vacation day for every x hours worked
Challenging to track and could lead to misunderstanding on both parties
For new employees, employers need to decide if the vacation time starts immediately or after an employee has been with the firm for a specified time period (e.g., 3 months, 6 months)
Rollover or Use It or Lose It
Another area that factors into vacation policy is whether or not the days are available to be rolled over into subsequent years, whether there are limitations (e.g., a maximum of 5 may roll over) or if the employee has to use them before they expire at the end of the year.  Unused vacation, sick or personal time represents an accrued liability and would have financial implications when the employee leaves.
Employee Input
Vacation time is one aspect of the benefits package that will be difficult to alter once it has been established, so it's best to ask your employees what they hope to gain from the policy before it's set in stone. The policy should be focused on the needs of your own business and employees – one size does not fit all.
No Formalized Policy
There is a trend to move away from a formal vacation policy, even those who have decided to scrap their policies altogether, and allow employees to take off as much time as they want. The theory behind this option is that it de-bureaucratizes the workplace, and, rather than making employees feel like they will be compensated for productivity, they will maintain increased productivity by not having to stress out about proving their self-worth within the company.
This concept of workplace democracy, and doing away with employer-sanctioned occupational limitations, has become one of the most important movements in the business world, says Brian Carney, London-based member of the editorial board of the Wall Street Journal, editorial page director of the Wall Street Journal Europe, and co-author of the business book, Freedom, Inc.: Free Your Employees and Let Them Lead Your Business to Higher Productivity, Profits, and Growth. "One of the things that we discovered is that to really liberate employees, you have to get them out of the mindset of trading material goods in one form or another for performance," he says.
According to Carney, a lot of employers are hesitant to consider getting rid of a vacation policy because employees see it as something they are entitled to and something they take comfort in – a dynamic which can be destructive to a company. "You have to break that dynamic of, 'give me something, and I'll give you something," says Carney. "You don't establish a vacation policy to encourage people to bankroll [time off], you establish a vacation policy to let people see that it's healthy to take time off work."
Sick Time
Fixed Allocation
A set number of days per calendar year
Percentage Allocation
Sick days based on number of hours worked, not to exceed a set number (e.g., 5)
Personal Time
Personal time is typically a fixed allocation when businesses offer it. One to three days are relatively standard benefits.  The business may also specify a guideline for things such as time off to attend a funeral and whether or not the relationship to the deceased (family member vs. friend) impacts the application of the time as personal vs. vacation.
Enjoy the fruits of your own labor and take some time off!  You've earned it.  And don't forget, Cybertary is here to help if you want help so you can truly decompress . . . and we don't require a PTO Policy!  Enjoy your summer.